Here's the info sent to teachers in various networks about our @PulitzerCenter Workshop:
ATTENTION Philadelphia-area K-12 TEACHERS!
Join us for a UNIQUE (AND FREE!) PROFESSIONAL DEVELOPMENT OPPORTUNITY.
The Pulitzer Center on Crisis Reporting IS COMING TO PHILADELPHIA!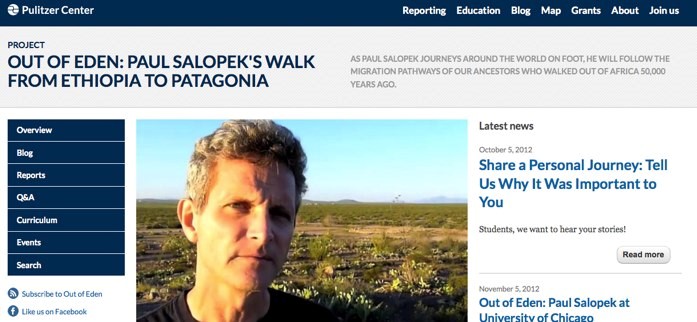 WHEN: November 7, 2013. 4:30 – 7 pm (Dinner will be provided)
WHERE: Independence Charter School – 1600 Lombard St, Philadelphia, PA 19146
WHAT: This very special professional learning opportunity will feature the Education Director (Mark Schulte) and Education Advisor (me) from the Pulitzer Center on Crisis Reporting, as well as Paris-based photojournalist, and Pulitzer grantee, Tomas Van Houtryve, who has recorded powerful, rarely seen images from the North Korean border, to demonstrate practical applications of these excellent tools for classroom engagement and how to incorporate these into existing lessons and Common Core standards.
A special focus of the session will be on the Out of Eden Walk, a seven-year trek across the planet by Pulitzer Prize-winner Paul Salopek, uncovering the crucial and often untold stories of our time. The Pulitzer Center, Harvard and National Geographic have teamed up with lesson plans, an online learning community, interactive blog, and more materials to engage K-12 classrooms worldwide. Learn how yours can plug into this exciting learning opportunity that can incorporate all subject areas. Come away with concrete (and exciting!) global learning tools for your school or classroom. (We'll also be Skyping with our Harvard Project Zero colleague during the workshop.)
Shortly after this session, Paul Salopek and the Out of Eden walk will be featured as National Geographic magazine's cover story, and participants from Philadelphia will have an opportunity to engage in a live video chat with Paul from his location in the Middle East.
To learn more about the Out of Eden Walk, see:
http://pulitzercenter.org/projects/out-of-eden
Space is limited, and the cost is free, but reservations are essential.
To reserve your spot, please email Homa Tavangar, Pulitzer Center Education Advisor: homa@growingupglobal.net
Special thanks to local partners: World Affairs Council of Philadelphia, University of Pennsylvania National Resource Centers (African Studies, East Asian, South Asian, Middle East Centers), U Penn Graduate School of Education, and the Pennsylvania Council on International Education (PACIE)