Earlier this month I was in Los Angeles for the public launch of one of the most exciting projects I've ever been fortunate enough to work on: A new children's animated series called Nina's World! The show is a sort of prequel to the Sprout network's long-running, popular GoodNight Show, starring the sparkling Michele Lepe as Nina. In Nina's World Michele plays "Mami," Nina's mommy, and Nina has a particularly special relationship with her grandmother (her "Abuelita"), played by the legendary Rita Moreno, 83, who is about to receive the Kennedy Center Honors (to add to her EGOT – Emmy, Grammy, Oscar, and Tony awards!). We're also thrilled to have another legend, Mandy Patinkin, play the role of Mr. Lambert, the neighborhood librarian! These A-listers signed on because they believed in Nina's World and its great messages. The show hits on a number of key themes:
– 3 generations of a "real" family, having real experiences in a real neighborhood.
– The neighborhood is multicultural, it celebrates diversity, and the authentic interactions that arise out of diverse experiences. We have a number of ethnicities represented, and for the first time in animated TV, we have a deaf character voiced by an actual deaf actor who also communicates with American Sign Language. (An ASL expert was brought on as a consultant to the show, to ensure characters got it right.)
-Kids and adults experience each other's cultures, and aren't afraid to ask questions, try new foods, dances, traditions, or learn phrases in another language. These authentic cultural experiences create adventures right in the neighborhood, and serve as a model of how we can all discover the world right from within our own communities.
– The show is also very much about friendship, nurturing curiosity and creativity, building empathy and other universal virtues. At the intersection of friendship and a multicultural experience is the idea articulated in Growing Up Global: Raising Children to Be At Home in the World that a global citizen is a "friend to the whole human race." Nina, her family and friends don't tell you this but they show it by their actions.
-There might be stumbles, misunderstandings and mistakes amidst the experiences across friends and generations, but we are all learning and can try, try again. In other words, we don't shy away from showing failure.  We showcase resilience and what we can learn from missteps.
-FUN! For viewers – especially kids pre-K to early elementary – the show will just be a lot of fun to watch!
I was fortunate to be contacted by the producers at the very start of conceptualizing the show and have worked with writers and producers to brainstorm and flesh out story concepts, offer suggestions for multicultural/Growing Up Global story possibilities; I review every script, casting, some of the artwork, and character development for cultural, and educational content and consistency. I've been so impressed by the commitment to cultural integrity and authenticity by the whole team. This adds to the reasons lots of people are getting really excited about the show. It's been particularly gratifying to me that all the writers have used Growing Up Global as a guide to story development, and many episodes are inspired by vignettes shared by my family and dozens of other real families, highlighted in Growing Up Global. I serve as the Series Adviser, or Education and Cultural Consultant.
Combined with the excitement of the announcement for the Nina's World was the atmosphere of interacting with Hollywood glitterati, with all of us staying at and working out of the iconic Beverly Hilton. I was asked to participate on the Nina's World panel with Rita Moreno and Michele Lepe during the Television Critics Association NBC Universal day of new show press events. Spending a couple days with Rita Moreno was a highlight and an honor. We were prepared for a "cool" reception by the critics who need to stay objective and already had been at TCA for THREE WEEKS. Fortunately, it's hard to resist Rita's charm; so despite the fact we were the first of about a dozen panels in the day around new NBCU shows (and the only one for kids!), we were so warmly received. As one veteran remarked after the panel, "It couldn't have gone better!"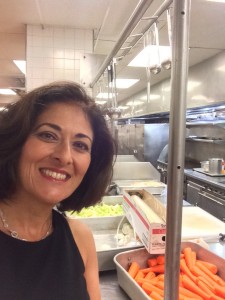 To add to the excitement of being part of the NBCU showcase (Sprout is now part of NBC), was having hair and makeup done in the big NBC "talent" room, and then going to the NBC party at Spago that evening, with chef Wolfgang Puck personally serving abundant quantities of his signature dishes. As a Beverly Hills cocktail party I thought it would end early and no one would eat, but the place remained packed until close to midnight and the plates were full.
I got to reconnect with my 2d cousin Cas Anvar, who will be starring in a new, big-budget SyFy channel show called The Expanse, co starring fabulous Shohreh Aghdahloo. We definitely got our Persian on! And it was fun celebrity siting so many actors. What struck me (and my daughter Layla who got to come to the party with me) about many of them was how smart and witty they were. I suppose you have to be pretty savvy to get that far these days – a pretty face ain't enough!
Stay tuned as I'll be sharing more clips from Nina's World and other exciting updates!