Thanks to WHYY News Director, Sandra Clark and reporter Cris Barrish for taking a real interest in the power and possibility of my latest publication, Global Kids: 50+ Games, Crafts, Recipes and More. The WHYY featured story, titled:
The story took weeks (months?) of cultivation until it was the right time to run, briefing on the benefits and uses of Global Kids, then hours of conversations with the assigned reporter between myself then the wonderful Delaware Teacher of the Year, Wendy Turner (@mrswendymturner on Twitter) who I knew through her being named a Global Learning Fellow of the National Education Association Foundation, an organization I advise. Wendy learned about Global Kids, purchased them, and started using them right away in her class. I learned about her lovely experience with the Attitude of Gratitude card from a tweet she posted, and another day she tweeted about another experience, using the Japan "Wishes and Dreams" card: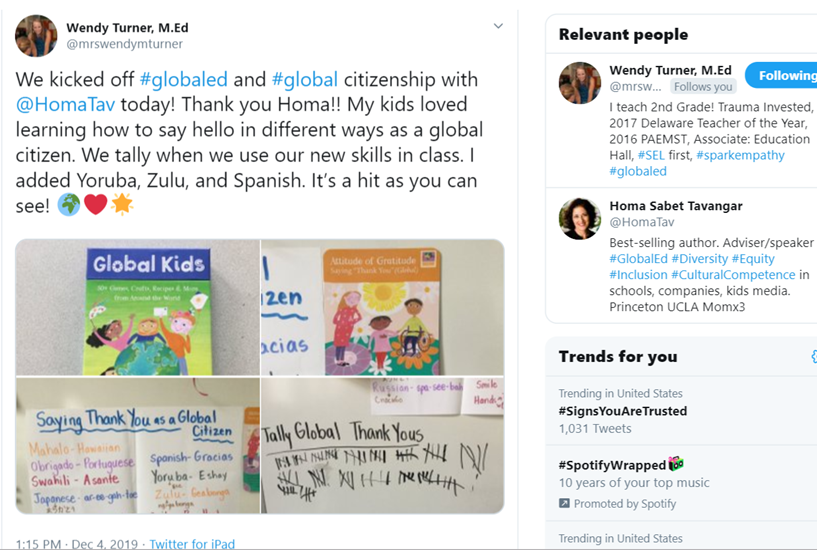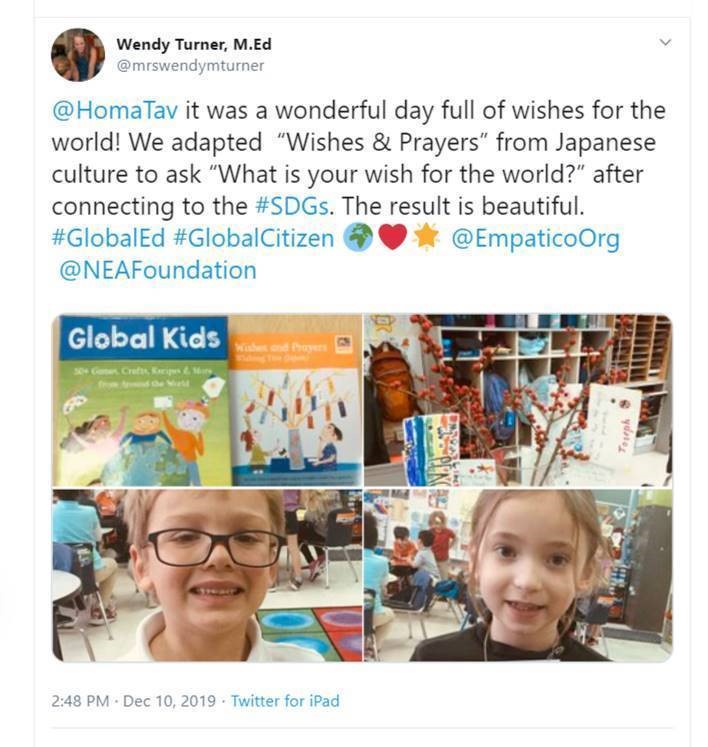 So, When discussing the story with WHYY, it seemed natural to include an outstanding teacher who is teaching with Global Kids cards. But it's so much more than that, and I think Cris's story captured the spirit of Wendy's class. Teaching about cultures serves as a window to building kindness, empathy and other social and emotional learning skills that help unleash deeper learning.
When I spoke with Cris, he anticipated a 1.5 minute story, but the broadcast, during the morning commute on one of the last days before winter break, goes for 3:37 minutes! That was an amazing surprise. And I love the pictures their photographer took, capturing what an empathy-rich, global learning environment can look like, and how engaged the children look making their Ubuntu collages. It's gratifying to see how many elements and stories can emerge from Global Kids – almost as varied as the many cultures contained in each activity card.
Here's the link again to the WHYY NPR story: https://whyy.org/articles/created-and-taught-in-philly-region-global-kids-offers-multicultural-lessons/.