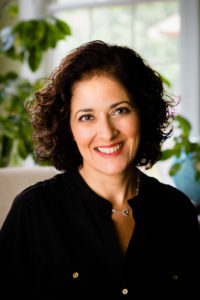 Homa Sabet Tavangar is an acclaimed author, speaker, workshop presenter, coach, storyteller, and recognized thought leader on building global citizenship, cultural competence, inclusive environments that celebrate diversity, and 21st-Century, innovative learning across the life cycle.
She possesses 25+ years of experience in business and global strategy development, diversity and inclusion, cross-cultural and global competence, empathy-building, marketing, fundraising, organization and communication advising, research and training on innovation in education, and infusing global experiences and perspectives in classrooms, workplaces, children's media, and at home.  Read full bio »
Book Homa for Your Next Event
When people begin to explore the opportunities for connecting more authentically with the world (near or far), we all learn so much.  Homa shares knowledge and resources from decades of research-based writing, teaching, consulting and personal experiences across four continents. Consider inviting Homa to your community for a talk, training in a school or corporate environment, an international day or Employee Resource Group, school assembly, or consultation with administration for implementing a globally-oriented strategic plan.
For booking inquiries, please contact: homatav@growingupglobal.net.
Break Barriers, Unlock Potential
At the heart of Homa's work with any organization is close listening to find the most relevant solutions and messages, in order to unlock human potential. While themes and topics are listed below, collaboration takes many forms, starting with directly addressing stated needs.
With K-12 Schools:
Building global competencies in classrooms can be spurred by tailored professional development workshops and small group coaching which helps spur innovation and transform learning spaces; or tap into potential that might already be present throughout the school. Whether addressing Common Core, IB, technology, diversity, global, or innovation goals, Homa's work with teachers, administrators, students and parents can help build cohesion, inclusion, inspiration, and buy-in. Key themes include: Bringing the world to your classroom; raising global citizens; cultivating empathy and social-emotional learning; cultivating "World-Class Learners" through creativity and an entrepreneurial mindset. Click here to see more examples of presentation topics and professional development themes.
With Universities:
Virtually every college and university sees itself as a global campus that prepares its students for a global economy and connected world, wherever its students may come from. These goals run into two distinct challenges: International students face cultural shocks due to different expectations and assumptions than what they might have prepared for in their home countries, from expectations of how to use their free time, what constitutes collaboration versus cheating, and how to build authentic relationships. Domestic students might be challenged in welcoming the international students, creating diverse and inclusive social communities, figuring out how to navigate global career opportunities, prepare for study abroad, and widen their vision of how and where they might be able to make the greatest impact. At this exciting time in students' lives, team-building, assumption-busting, and inter-cultural dialogue exercises can create lasting impact for building a truly global campus community comprised of individuals capable of thriving in a changing workforce. Invite Homa to speak on your campus to students, or to help plan for greater effectiveness in globalizing your university.
In corporations:
Homa's work with companies goes back to the start of her 25+-year career, where she helped develop global market strategies and build internal capabilities to successfully steer hundreds of diverse companies amidst uncertainty, turbulence, and new challenges. Today, she superimposes her business development experience onto the latest research in learning innovation, global mindsets, and cultural competencies. Most companies are "global" in some way, by necessity, but those carrying out the work might not identify themselves as global citizens, creating a gap between mission and identity. This can result in lost opportunities, miscommunication, weaker teams, and hampered collaboration across cultures, perspectives, time zones, and various identities. Through examples of how assumptions and perspectives impact the workplace, deeper listening exercises, humor, multi-media tools, and other interactive features, teams can experience stronger connections and overcome obstacles they may or may not have recognized earlier, to potentially enhance productivity and customer-facing efforts.
With non-profits, foundations, and international organizations:
Homa's experience leading and developing strategic planning initiatives, building and strengthening Boards of directors, gaining sponsorships, allies, media attention, and developing fundraising branding and awareness campaigns around difficult issues, all while cultivating inclusion and consensus across diverse individuals can help organizations move forward to realize their missions. She has keynoted or emceed benefit events, as well as worked more closely (as a consultant, staff or Board member) helping organizations advance their missions and multimillion-dollar capital campaigns.
With individual students:
Homa has advised dozens of applicants on college choice, helped students articulate strengths and interests, formulate and edit authentic essays, and helped prepare interviewees as well as serve as an admissions interviewer. Her advisees have been admitted to a range of top universities in the US, UK, and Canada. She also has helped advise families on gap-year options, and is the parent of students who took a gap-year and studied abroad (as well as participating in study abroad herself in the 1980s).
In her coaching work with students, her approach is simple: Understand the process. Learn more about yourself. Discover the best fit. Unlock your potential.
Storytelling across categories:
Homa has extensive experience helping to translate a company's portfolio or mission into essays, marketing materials, scripts, brochures, and other messaging. She draws on her 25+ years' experience writing for business, education, and arts' audiences to tell the stories that connect with diverse readers and clients. (See one example here [hyperlink Dan Zanes' brochure). Her writing for Edutopia, PBS, National Geographic, Huffington Post, NBC and others has resulted in highly popular pieces for these sites.