(I'm posting this press release because I think it's announcing great product with a worthy mission, and I know and respect the founders for their integrity and vision in starting this company — plus it's adorable!!  Also, I have NOT been compensated to share this press release.)
Tender Sapling Launches Pink Line on Day of the Girl:
Proceeds to Benefit Malala Fund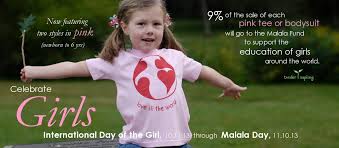 Tender Sapling, a Charlottesville, VA, based lifestyle brand, announced today that it is introducing pink to its eco-friendly kids clothing line on October 11 to celebrate the International Day of the Girl. It also announced that 9% of the proceeds from the sales of the pink bodysuits and tees between the launch and November 10, 2013 – Malala Day – will be donated to the Malala Fund to support the education of girls around the world.
The introduction of two of its original styles – "Love all the World" and "Tender Sapling" – in pink comes a little over one year after Tender Sapling launched its online store and blog featuring inspired, eco-friendly products and resources to help kids have fun and grow noble™, defined as cultivating virtues, world citizenship, and environmental stewardship.
The decision to honor the Day of the Girl with new pink products and to donate a portion of the proceeds of the pink tops to the Malala Fund was easy for founders, educators, and parents of three boys, Emily and Scott Mohajeri Norris. They simply paired customer requests for their bold design tees and bodysuits in pink with their goal for Tender Sapling be a source of positive change in the lives of families and children.
Co-founder Scott explained, "After selecting unisex colors for our initial line, we polled our customers and learned that many girls and their families also wanted pink. So, we decided to give these girls a color they love!"
Co-founder Emily added, "We are inspired by the Day of the Girl and Malala Day and wanted to celebrate these. We saw that famous landmarks around the world were bathed in pink light to celebrate the achievements and potential of girls on the first International Day of the Girl last year. We thought, why not launch our pink styles on the Day of the Girl this year to help raise awareness.
"The idea of girls around the world wearing our 'Love all the World' tees in pink as they head to school or the library is a perfect way to connect with role models such as Malala. So, supporting girls education through the Malala Fund is a natural choice to ensure the pink launch has a meaningful impact."
About Tender Sapling 
The initial line of Tender Sapling products includes 100% organic cotton bodysuits and tees for ages newborn to 12 years old, matching temporary tattoos and stickers, bags, and stationery. The pink styles are the first in a series of new products Tender Sapling will be rolling out through the fall, including adult size tees and wall art.
Tender Sapling strives in all they do to be kind to the earth while tending to the heart of each child whose life they touch. Their clothing lines feature fun, interactive ideas on Activity Tags to help kids put into practice each theme's message – from "Love" to living life "With All Your Heart." Creative activity suggestions range from yoga and fun song lyrics for younger children to film-making and community service prompts for older kids. Plus, their blog focuses on additional ways families can have fun and grow noble™ – from virtually traveling to a different country each month to developing character traits through everyday activities.
Unsolicited social media buzz for Tender Sapling from the likes of Rainn Wilson, father and actor/director, and Homa Tavangar, mother and author of Growing Up Global: Raising Children to be at Home in the World, marks Tender Sapling as a lifestyle brand to watch. As Chelsea Smith, mother, creator of Moments a Day blog, and Tender Sapling customer, testified: "We love the beautiful themes of the Tender Sapling products. They remind me to take advantage of the precious and simple opportunities to teach empowering messages to my children."
Whether you or your kids wear pink, keep an eye on this up-and-coming small business, which aims to bring some magic to you and your kids. Tender Sapling can be found at www.tendersapling.com, @tendersapling, and www.facebook.com/tendersapling
Media contacts:
Emily Mohajeri Norris emilymnorris@tendersapling.com
Scott Mohajeri Norris scottmnorris@tendersapling.com